Finally last week my wait came to an end. My favorite thrift store reopened after closing for the holidays and I could go on a treasure hunt :) I try to stop in at least once a month to see what comes in and usually it's not hard to find something. I wasn't looking for a big project just something easy to start the New Year and get my hands covered in paint again.
Here's what caught my eye; a pair of lamps and a wooden frame. I love the shape of the lamps and the thickness of the wood frame. I purchased a new shade of Annie Sloan Chalk Paint in Aubusson Blue and thought I'd try it out on the lamps. The frame received my go to shade of Annie Sloan Old Ochre and a light distressing. Here are the before and afters.
Solid Wood Frame
Painted with ASCP Old Ochre and lightly distressed
Lamps with metal base
One painted with ASCP Aubusson Blue
the other with an added coat of AS Dark Wax
Hope you're having a great day! Thanks for visiting.
I'm partying with
Savvy Southern Style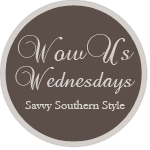 Common Ground